The harvested rods are sorted according to length and stem thickness. The willow is then bundled for carrying from the withy beds and to enable them to be stored.

The smaller grades are used for basketmaking with mid-grades selected for archways and domes, and the largest used for fences and hedging. There are many styles of willow weaving these including randing where single strands are used to provide a strong and neat structure, slewing with multiple strands worked together for a decorative finish, and fitching with a parallel or criss-cross weave. The ease with which willow takes root also makes it perfect for use in living outdoor structures such as arbours and hedges.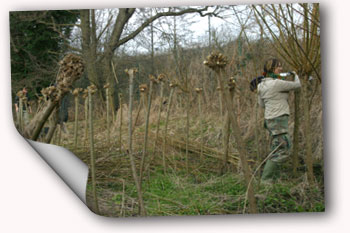 #8992/07 ©2007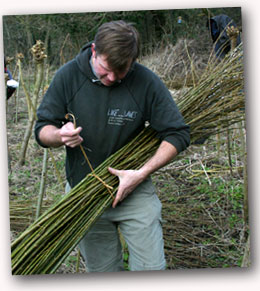 #8965/07 ©2007

Many thanks to Ian Baldwin for his invitation to join in the coppicing which was undertaken on a mercifully dry winter's day in February 2007 on withy beds alongside Hell's Ditch in Godalming, Surrey.
Thanks also to my co-workers Karen, Rebecca and Mark who provided encouragement and good banter.
Phil Kemp, photographer.