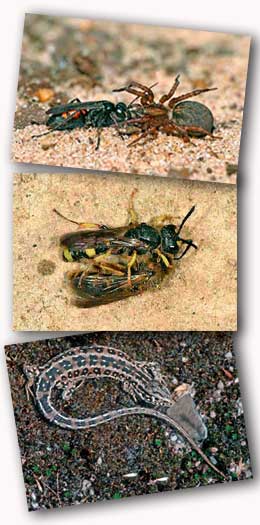 The Spider Wasp (Anoplius viaticus) top, with its kill
which will be fed to larvae. At centre is the
Solitary Wasp (Cerceris rybenis) again with prey.
At bottom is the Sand Lizard (Lacerta aglis),
a Biodiversity Action Plan species. The Sand Lizard
is larger than the common lizard. The male turns green in the breeding season.
©2006 #2906 / 3006 / 3106 Jeremy Early
ABOUT THE PHOTOGRAPHER
Thursley has been a popular place for Jeremy Early to visit and take photographs for the best part of 20 years, following on from his father, who used to analyse and photograph microscopic life in the water, especially diatoms.
Jeremy was born in Surrey and has lived there for most of his life. His conservation activities in the county have included being voluntary warden of a small reserve near Leatherhead, carrying out Wetland Bird Survey counts each winter, plus committee work for Surrey Wildlife Trust, the Leatherhead & District Countryside Protection Society, Mole Valley District Council's LA21 nature conservation sub-group, and a group focusing on the protection of the River Mole.

Jeremy's book Hidden Jewels – the Wildlife of Leatherhead and Fetcham, published in 1997, has sold more than 1,000 copies with proceeds going to local environmental charities.

Jeremy, a journalist by profession and a conservationist by enthusiasm, sums up his approach to nature photography like this:
"The natural world and its flora and fauna matter to everyone aesthetically, thanks to their beauty, colour and variety. There is no stronger contributor to the feel-good factor, though this is not always realised by those who benefit. Flora and fauna are even more important practically, through their vital work in guaranteeing such things as food, a balance of species, soil fertility, efficient recycling and crop pollination.

"Protection of this remarkable resource is of the essence nationally and internationally, and striking visual evidence of natural beauty, along with the damage humans can do to it, is a highly effective tool for conservation. Putting images with words provides the most powerful tool of all."
Visit Jeremy Early's nature conservation website here